Dogs Quiz Bowwow Touch :: One Touch Simple Game with 109 dogs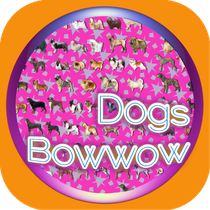 Dogs Quiz Bowwow Touch :: One Touch Simple Game with 109 dogs 
109 dogs are large sets. 
The simple casual game which finds the dog of a title quickly and touches it out of many dogs. 
The cleared stage gets used to a dog in detail further from the link to Wikipedia! 
The dogs of each stage are allowed to quote a picture from the distribution diagram (The Generation of Dogs) of a dog, after checking use consent with Inusapuri (http://inusapuri.com). 
* Function 
The speech function to teach the name of an animal 
The function murmured by Twitter 
It corresponds to GameCenter. 
*BGM 
'GReen' by GReen feat. Eiji 
*dogs list 
Tibetan Mastiff 
Pug 
Belgian Tervuren 
German Shepherd Dog 
Briard 
Maltese 
Lhasa Apso 
TIbetan Terrier 
Smoyed 
Ibizan Hound 
Saluki 
Tomarctus 
Neapolitan Mastiff 
Komondor 
Collie 
Old English Speepdog 
Bearded Collie 
Lowchen 
Bichon Frise 
Shar Pei 
ChowChow 
Afghan Hound 
Basenji 
Italian Greyhound 
Bloodhound 
Standard Poodle 
Puli 
Border Collia 
Australian CattleDog 
Shih Tzu 
Pekingese 
Tibetan Speniel 
Japanese Chin 
Chihuahua 
Grey Hound 
Borzoi 
Glen of Imaal Terrier 
Basset Hound 
Great Dane 
Mastiff 
Shetland Sheepdog 
Welsh Corgi Penbrake 
Norwegian Elkhound 
Pomeranian 
Keeshond 
Japanese Spits 
Irish Wolfhound 
Shcottish Terrier 
Wire Fox Terrier 
Parson Russell Terrier 
Tosa 
Rhodesian Ridgeback 
Bulldog 
Rottweiler 
Boxer 
Papillon 
Cavalier King Charies Spaniel 
English Cocker Spaniel 
Alaskan Malamute 
Whippet 
Manchester Terrier 
Airedale Terrier 
Jack Russell Terrier 
Great Pyrenees 
Bernese Mountain Dog 
Bullmastiff 
Dobermann 
Miniature Pinscher 
English Springer Spaniel 
American Cocker Spaniel 
English Setter 
Siberian Husky 
Yorkshire Terrier 
Smooth Haired Dachshund 
Cairn Terrier 
West Highland White Terrier 
St. Bernard 
Newfoundland 
French Bulldog 
Boston Terrier 
Bull Terrier 
Miniature Schnauzer 
Gordon Setter 
Irish Setter 
Weimaranaer 
Australian Terrier 
Wire Haired Dachshund 
Long Hared Dacheshund 
Beagle 
Leonberger 
Golden Retriever 
Labrador Retrivever 
Flat-Coated Retrever 
Miniature Bull Terrier 
Stanffordshire Bull Terrier 
Dutch Smoushond 
Dalmatian 
Vizsla 
Pointer 
Dandie Dinmont Terrier 
Kerry Blue Terrier 
Border Terrier 
Norwich Terrier 
German Shorthaired Pointer 
German Wirehaired Pointer 
Akita 
Shiba 
Kai 
Welsh Terrier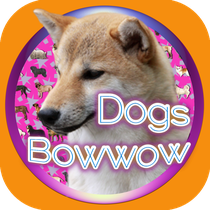 □概要
109匹のわんちゃん大集合。
たくさんの犬の中からお題の犬を素早く見つけてタッチするシンプルなカジュアルゲーム。
クリアしたステージはWikipediaへのリンクからさらにわんちゃんに詳しくなれます!
各ステージの犬たちは
いぬさぷり様(http://inusapuri.com)
に利用許諾を確認の上、犬の系統図より画像を引用させていただいてます。
□機能
動物の名前を教えてくれる、スピーチ機能
Twitter でつぶやく機能
GameCenter に対応